It is definitely an Irish Breakfast tea kind of mornin'!
Drinking tea and surfing Irish real estate.... Can't
beat that!
(check out the cute house below! :)
Brrrr! It is a very deceivingly beautiful morning out.
The sky is bright and from my window it appears
to be a warm, gorgeous day. But it is not!
I stepped outside in only a jogging suit and no jacket
thinking it would be warm. It was a shock to my mind
and my system that it was so cold.
May have been wishful thinking on my part that the
cold gray days had been replaced with bright warm ones.
I guess that is partially correct... They gray day has
been replaced by a bright one. I'll take it! Sun and
cold are fine by me :)
Anyway, Today I have a new cottage and info
to share with you.
As you know, I have been watching the Irish
real estate market for some time and have seen the
prices go sky high, and as of late, drop to low low.
I have heard many people speculate that the housing
market has not yet reached the bottom. It seems like the
bottom to me, but I am no expert. I am just a
girl who loves Irish cottages and Irish real estate.
Looking at real estate has become somewhat of
a hobby with me. I love to watch real estate shows,
surf real estate on the web, and read about real estate.
I love Irish, US, and world wide real estate... I am not
too picky. Every show or article makes me ponder
what it would be like to live in that location.
Interestingly enough, this has taught me that I could
live almost anywhere and be happy.
This powerful realization is a wonderful feeling
after being a gypsy for so long. :)
Here is a new favorite Real Estate find
this go around listed on property.ie
letting me show pics of your listings. :)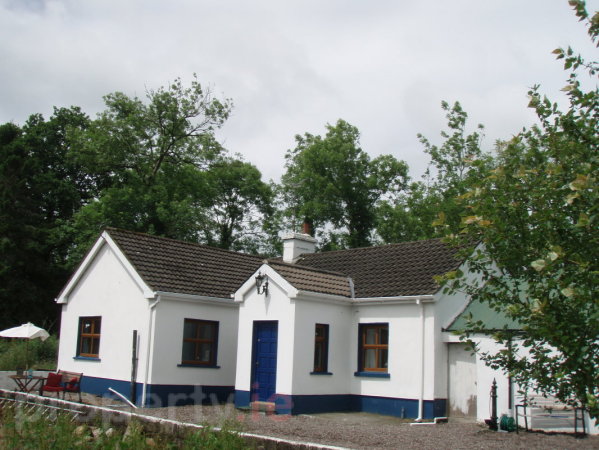 This 2 bedroom, 1 bath detached house on c. 1
is listed for €99,999.
I love it because it is just so darn cute! Plus the
inside is very nice. Could move right in and
start enjoying the view and land.
That's it for me. I am off to drink a wonderful cup
of Irish breakfast tea.
I hope everyone has a great weekend!!